It's been a long road but finally, New York State has signed off on legislation to make legal sports betting under the state's jurisdiction. The question now is what it means for mobile gambling and how app developers will react in response.
New York State has started to offer online sports betting. The state's legislature passed a bill that will allow people to bet on the outcome of sporting events from their mobile devices. Read more in detail here: new york online sports betting bill.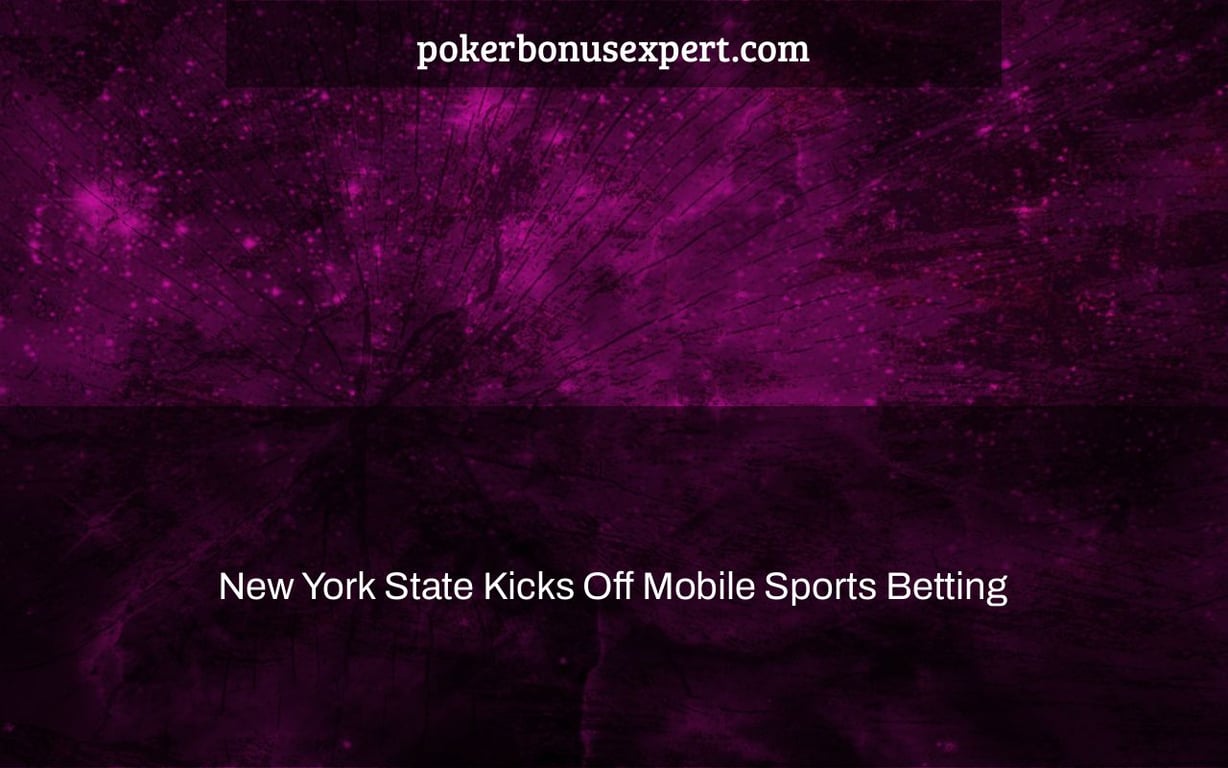 The long wait is finally over, as New York State will for the first time in its history implement mobile sports betting this weekend. Empire State gamblers will be allowed to make their sports bets online on four regulated platforms by the New York State Gaming Commission beginning Saturday, January 8, 2022, at 9 a.m., with additional platforms on the way.
The New York State Gaming Commission has previously certified nine gaming companies to provide regulated online sports betting in the state. Four of the nine have received regulatory approval so far, and football fans will be able to make bets on Jets vs. Bills and Giants vs. Washington games starting Saturday morning.
There are four platforms that are ready to go live.
Caesars Sportsbook, DraftKings, FanDuel, and Rush Street Interactive are the four authorized gambling operators that will be able to provide online sports betting this weekend. Bally Bet, Bet MGM, PointsBet, Resorts World, and Wynn Interactive are the other five companies actively working on their license. The planned launch ultimately solves the issue of whether it will be possible to debut before the Super Bowl this year.
Before issuing final conditions to casino operators, New York State had to iron out a number of wrinkles. The state imposed a 51 percent tax rate on all operators, which sparked debate since Assembly Racing and Wagering Committee Chairman Gary Pretlow expressed concern that the high cost might discourage operators from joining or conducting business-building initiatives.
Rush Street Interactive, which operates Rivers Casino & Resort Schenectady, is one of the companies that received approval to start accepting bets online. Richard Schwartz, Chief Executive Officer of the company, said that that the largest online sports betting market in the U.S. is finally here and it is just in time for the Super Bowl this February.
Mr. Schwartz said that Empire State gambling and sports lovers would have a wide range of wagering options on BetRivers. They'll be able to put the new service to the test on January 10, 2022, during the college football championship game and the next NFL playoffs. The NBA and NHL seasons are also in full swing.
This is not the only expansion that Rush Street Interactive is looking to make, as the company has also applied for one of the three commercial casino licenses in downstate New York. The corporation is optimistic that it can replicate its success from its upstate Rivers Casino & Resort Schenectady and transform a potential downstate property into a thriving economic force.
Now in New York State as well
Apart from requests from local gamblers and gaming operators, another motive for the Empire State to allow mobile sports betting was to prevent New Yorkers from placing bets in New Jersey. According to an EmpireStakes.com poll, 75% of adult New Yorkers have flown to the Garden State to make a bet on one of the state's online platforms, resulting in a financial loss for NYS.
Rick Karlin, Rick Karlin, Rick Karlin, Rick Karlin, Rick Karlin "Mobile sports betting in New York begins on Saturday," Times Union, January 6, 2022.
Watch This Video-
The "mobile sports betting connecticut" is a new way to bet on the go. New York State has just kick-started mobile sports betting.
Frequently Asked Questions
Is FanDuel sportsbook available in NY?
A: Unfortunately, FanDuel is not currently available in New York. They suggest that you try their website at fanduel.com/sportsbook instead to find a new sports betting site near you!
Does MyBookie work in New York?
A: MyBookie is currently not available in New York.
Can I bet on DraftKings in New York?
A: Yes. DraftKings only offers MLB games, but you can also bet on NBA and NHL games in New York at BetOnline Sportsbook.
Related Tags
ny mobile sports betting update
sports betting new york online
mobile sports betting, new york
when will sports betting be legal in new york
sports betting app