A study found that casino owners are able to keep people gambling an average of three hours a day. This seemingly small amount of time illustrates the importance and power that casinos have over customers. How do they use this potential leverage?
The "casino psychology tricks" is a topic that has been present for a while. Casinos have many methods to keep people gambling.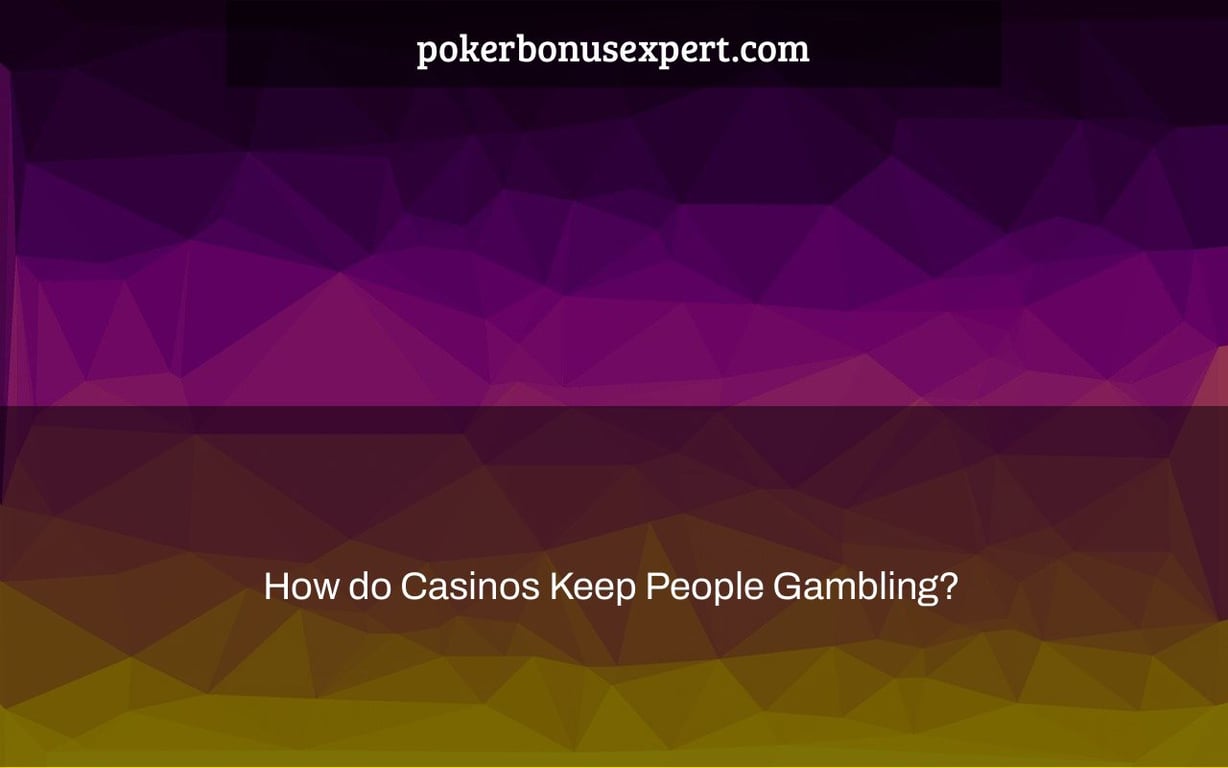 How can casinos keep their customers coming back for more? This is a question that many gamblers and non-gamblers ask repeatedly. How can gamblers lose money while being seated at the table or attracted to the slot machine? Yesterday, a gambler lost a lot of money in the casino, only to return today with more money to play with. What would motivate them to do such a thing? What psychology is at work here? Many people are perplexed by these and other issues.
How can casinos keep their customers coming back for more?
First and foremost, casinos, also known as the house, are controlled by intelligent individuals. These folks in the background are astute, continually developing new ways to keep players' attention drawn to the casino's entrance. They have a good understanding of how the mind operates. Humans are constantly enthralled by the promise of receiving a large sum of money with no work or sacrifice. Casinos take advantage of this by offering outrageous cash rewards, VIP programs, exotic vacations, cashback percentages, and other enticing offers.
The gambler is ecstatic when he sees these promises. They begin to fantasize about what they will do with all of that money. Even after losing a significant amount of money, hope remains that they will be able to regain what they have lost and win more.
How can casinos keep their customers coming back for more?
1. Colors, sounds, and lights
This is the casino's very first strategy. When you first visit a casino website or go into a physical casino, the lights, sounds, and colors overwhelm you. Even non-gamblers concur that the casino's brightly colored display draws them in.
The colorful colors, flashing screen, jingles, and other noises are all designed to keep you wagering. Have you ever heard the sound of a slot machine when you win a game? What about the sound of the slot machine at the start, middle, and conclusion of the game? There's a jingle that plays for you even when you lose.
What about the animations, vibrant colors, and the jingling coins and jackpots? Casinos use this on purpose to keep you engrossed in the games.
Even if you're a hopeless loser, these attractions make you feel like a winner. What about the notice "try again" that appears on your screen after you lose?
The lights arouse your senses, ensuring that you do not get disinterested. They subtly encourage you to keep taking chances. Even if you've lost all your money, you're inspired to return the following day. Why do you dream about lights, noises, and colors when you go to bed after a long day at the casino?
2. Appealing Ads
Because the media has the ability to influence people's attitudes and choices, casinos take advantage of this. They market their casinos in the media and aim to hook viewers with large jackpots. They persuade you to play by telling you about gamblers who have won large.
These advertisements might be aired or printed. They're broadcast on both conventional and digital media. They show photographs of happy people or families who have won large. Of course, if you dig a little further, you'll find that the ratio of winners is incredibly low in comparison to the amount of losers.
They use words like "jackpot," "fortunate," "win big," "interesting life," and so on in their advertising on purpose. The gambler's senses are stimulated, and they are ecstatic at the thought of winning large.
Casinos usually include a call to action at the conclusion of their advertisements. This might be connected to their websites, email addresses, phone numbers, how to appropriately make a bet, land-based firm operating hours, and so on. This call to action has (potential) gamblers frantically clicking links or copying their contact information.
Advertisements aren't limited to television or the internet. Casinos use banners around their facility to promote your drive to win as soon as you walk in.
3. Complimentary drinks, food, rooms, and other perks
Have you ever heard the phrase "the customer is king"? Casinos, on the other hand, recognize this by providing excellent service to their consumers.
You could get a free drink or meal if you're a new player. You won't be tempted to leave the casino because you're hungry or thirsty this way. When converting to cash, you may also be given a rebate percentage and lower exchange rates. On your first play, you may be awarded extra points that may be traded for a meal or a drink. Many online casinos may provide bonus points for wagers as little as $1.
Those who wager a lot are usually given VIP packages. These come with enticing incentives. The benefits may include anything from pricey beverages to being provided accommodations, personal account managers at their disposal, exotic holidays, and so on.
Humans, on the whole, like freebies and keep coming back for more. Although casinos strive to provide excellent service to their patrons, they will not hesitate to eject anybody who is disrupting the casino's tranquility.
You will get certain privileges and will not be kicked out as long as you are not raising a ruckus or attempting to cheat.
4. There isn't a clock to check the time.
Now things start to become a little creepy. Have you ever wondered why a casino doesn't have any clocks? Maybe not because you're too engrossed in your gambling to notice the passing of time.
When you're having a good time, time flies and you forget to check. Casinos are well aware of this mentality, which is why they make sure their venues are devoid of clocks. In a casino, the only clock you'll see is the timer for your game.
The more time you spend playing a game, the more time you lose track of and the more compelled you are to spend more money. Of course, casinos will never confess to putting the clocks away on purpose. When questioned why they don't have clocks in their casinos, they frequently provide a vague answer.
Gamblers who do not want to get into an addiction trap use timers on their phones or wristwatches. This will serve as a reminder to them to exit the games at a certain time.
5. What Happened to the Windows?
If you don't check the clock, you may find yourself looking out the window to see how much time has passed. This will tell you whether you have squandered time or if there is still time remaining.
Unfortunately, you do not have the luxury of glancing out any window. This is due to the fact that casinos do not offer windows. They understand that you can determine whether the day is still light or if it is going dark by looking out the windows. This has an impact on whether you decide to stay at the casino or leave.
Casinos do not want you to leave the premises or take a break. They would want you to play for an extended period of time. The lack of windows deceives the gamer, leading them to believe there is still time.
6. ATMs and Casino Credits Available
Have you ever noticed how at a casino, automated teller machines are usually near by? When your money runs out and you need to keep playing, the ATM arrives in all its magnificence, complete with a halo and heavenly voices singing to you.
In a casino, it's difficult to find a clock or a window, but you won't have to look for an ATM. You don't even have to worry about getting up and walking to use the ATM at certain casinos. These casinos include on-site solutions for withdrawing money from your bank account without having to leave your seat.
Another option is to use casino bonuses. Casinos are well aware of the complications that might emerge when gamblers have to borrow money from their credit cards or play with money from their bank accounts. To address this, they have introduced casino credits, which allow you to borrow money to continue playing. Many players consider this to be beneficial and even appreciative, but the casinos are well aware of what they are doing.
How can casinos keep their customers coming back for more?
Bottomline
How can casinos keep their customers coming back for more? Now, you know the answer to this question. The casino designs the games to favor themselves and not you. The house always wins. You may have tricks or strategies up your sleeves but they own the place. They want all your money and intend to only give you a small percentage at the end of the day, that is if you're lucky to win. Even when you win, you will lose money long-term if you keep gambling. That is just the way it is.
Casinos are always trying to keep their customers gambling. It is a difficult task, but they have found some ways that work for them. One of the many tactics that casinos use to entice customers is by offering free or discounted food and drinks. Another tactic is by providing games with low house edges. Reference: casino secrets.
Frequently Asked Questions
How do casinos keep you gambling?
A: Casinos keep you gambling because they know that once you get hooked on a game, the casino will profit from it. They also want you to continue playing even if their games become boring so they constantly offer new and exciting ways for players to gamble like slot machines or roulette wheels which often have different rules.
How do casinos persuade people to gamble?
A: Casinos use the psychology of gambling to get people addicted. They offer a variety of games and prizes, such as cash or food vouchers in order to entice players into giving them their time and money.
Do casinos control who wins?
A: They do not control who wins, but they can manipulate the odds in their favor.
Related Tags
vegas gambling tricks
how casinos enable gambling addicts
how do casinos keep you awake
how casinos trick you into gambling more
gambling manipulation