Bet365 has joined the long list of gambling companies already operating in Ontario, Canada. The online betting firm will offer bookmakers and sports bettors a more diverse range of activities than just slots, poker or roulette. However as with many other iGaming offerings Bet365 is not available to Canadians at this time.,
Bet365 is the latest to join Ontario's iGaming sector. Bet365 will be launching a new online casino that will offer slots, table games and other types of games. Read more in detail here: igaming ontario.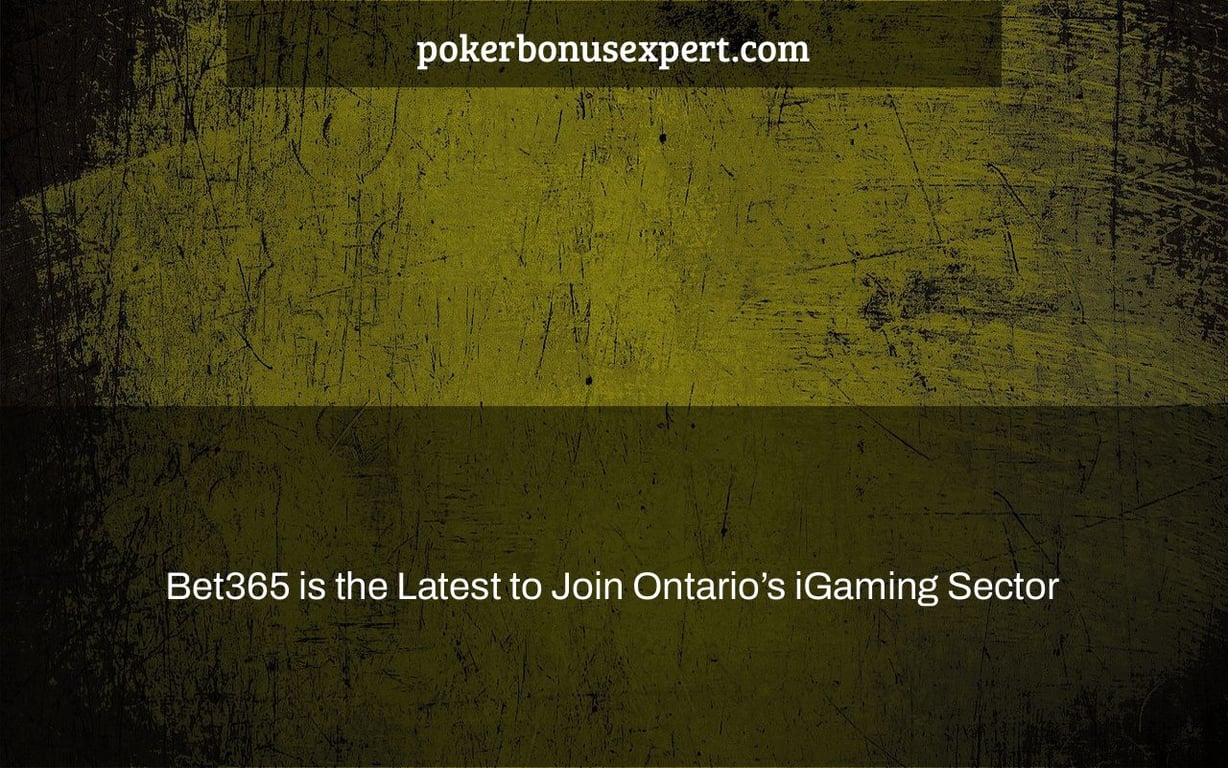 Bet365, a renowned sportsbook operator, said this week that it would move from Canada's gray market to the provincially regulated sector. The firm is thrilled to announce that it has been licensed as a regulated online sportsbook by the Alcohol and Gaming Commission of Ontario, allowing it to participate in the province's regulated iGaming and sports wagering industry.
After being postponed at first, Ontario's open market for private operators will officially begin on April 4, 2022. Approved companies will be able to legally provide their online gaming or sports betting goods to residents of the province. The market has sparked a lot of interest since Canada decriminalized single-game betting this summer.
Approved at this time
Bet365 has been a part of Ontario's gambling industry for a long time, but now the province's authorities will provide it a formal license. The company's mobile app will continue to provide the same services and goods as previously, but from April 4, 2022, bettors will be forced to submit location verification so that the app can detect whether or not they are inside provincial boundaries.
The app has a global user base of over 63 million users, and it is regulated by the Gibraltar Gambling Commissioner, as well as employing over 4,000 people. Canadians can already use the operator's app, which includes a wide range of sports betting options, as well as casino games, card games, and, of course, slots.
This month, the corporation has also launched a unique deal for all March Madness enthusiasts in Canada and the United States. By accurately guessing the result of all 63 games, the app gives the incredible potential of earning CA$6 million. In terms of chances, the probability of correctly predicting all of the games is one in 9,223,372,036,854,775,808.
This promotion is only accessible to new and qualifying online bettors from Canada and the United States. Participants must also be at least 18 years old and have their identities validated by the business. If a participant does not correctly predict all of the games, there are still cash awards for the top 250 people on the scoreboard.
Others have also joined in.
888 is another gray market operator that has been authorized to enter the regulated market after previously operating in Canada. The AGCO granted the firm permission to participate earlier this month. Once the market opens, the business will be able to offer qualified Ontario gamblers its excellent suite of iGaming products, including iCasino, sports betting, and poker.
Rush Street Interactive also announced last week, on March 10, 2022, that it has gained regulatory authorisation to enter the Ontario market. The acquisition of an Ontario iGaming license, according to Richard Schwartz, Chief Executive Officer of the Illinois firm, is a significant milestone for the company, which already delivers its BetRivers to the province in social free-to-play gaming form.
Greg and Warren are the sources. SportsHandle, March 15, 2022, "Bet365 Now Licensed In Ontario, Launching Bracket Challenge In Canada."
Bet365 is the latest to join Ontario's iGaming sector. The online sports betting site has been operating in Canada since 2014 and has now decided to make its move into the province of Ontario. Reference: online sports betting ontario.
Frequently Asked Questions
Can I bet on sports in Ontario?
A: Unfortunately, Ontario does not allow sports betting.
What sportsbooks are legal in Ontario?
A: Please see the following article for a list of legal sportsbooks in Ontario.
https://www.sportsbookreview.com/sportpesa-usa-sportsbook
What sportsbooks are legal in Canada?
A: All of the top sportsbooks are legal in Canada.
Related Tags
single-game sports betting ontario
ontario sports betting license
ontario sports betting bill
olg single-game betting
bet365 ontario